Trendelenburg hospital beds
TRENDELENBURG POSITION is currently widely used in hospital beds,especially the premium icu hospital bed for sale which features 5 function adjustment offering the comfort position easily.
It is a great design of manual CPR function electric hospital ICU bed Prices,Five function ICU electric medical bed with trendelenburg position.
The electric hospital bed working theory is simple,the trendelenburg position will have its specialist uses.
For instance, it's incredibly helpful in cardiothoracic surgery for a range of reasons.It's additionally handy to assist with placing a central venous line.
One of its main advantages,however,is its use to stimulate blood perfusion in patients with respiratory issues.
The Anti-Trendelenburg position,also called the Reverse-Trendelenburg position,is quite self-explanatory;the head is elevated 15 to 30 degrees higher than the feet. Laid on their back, the patient is positioned for surgeries where accumulated exposure is needed in areas like the prostate and upper abdominal region.
The Anti-Trendelenburg position are often used to increase respiratory function in overweight and obese patients by relieving pressure to the head. That being said,there are risks of hypotension and reduced blood flow to the brain, neck and genital area.
Similarly,the Anti-Trendelenburg position is included in care beds to allow the individual's legs to be raised. this is often particularly helpful for people who have conditions with restricted blood flow to the feet.
Function of electric iuc bed demenstration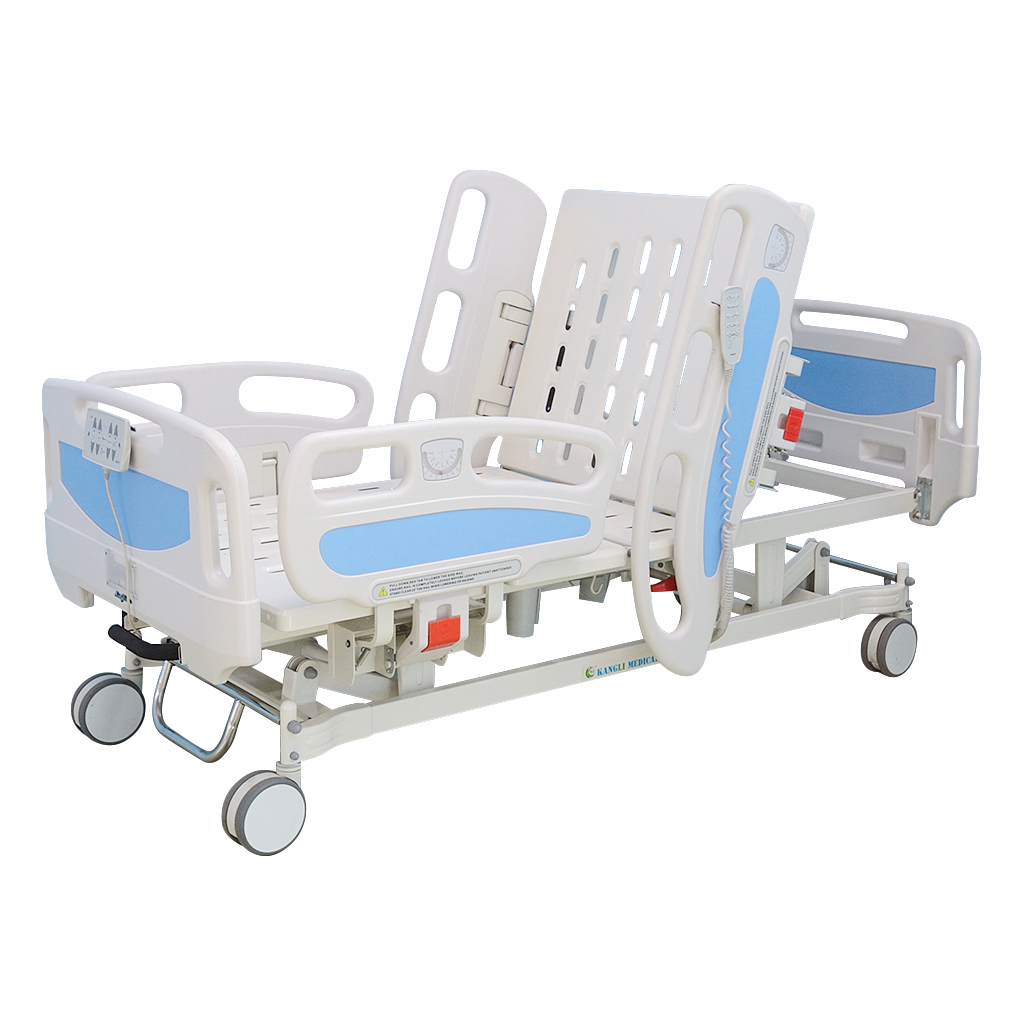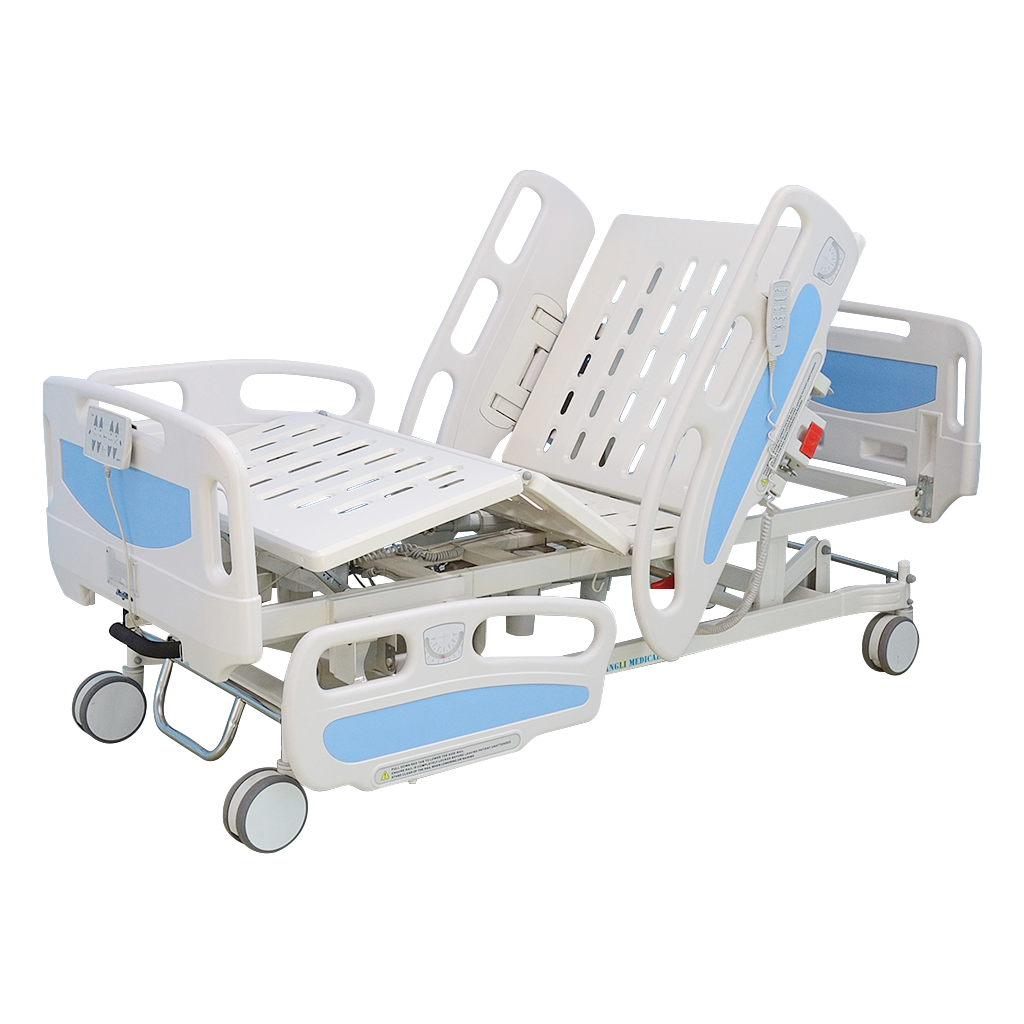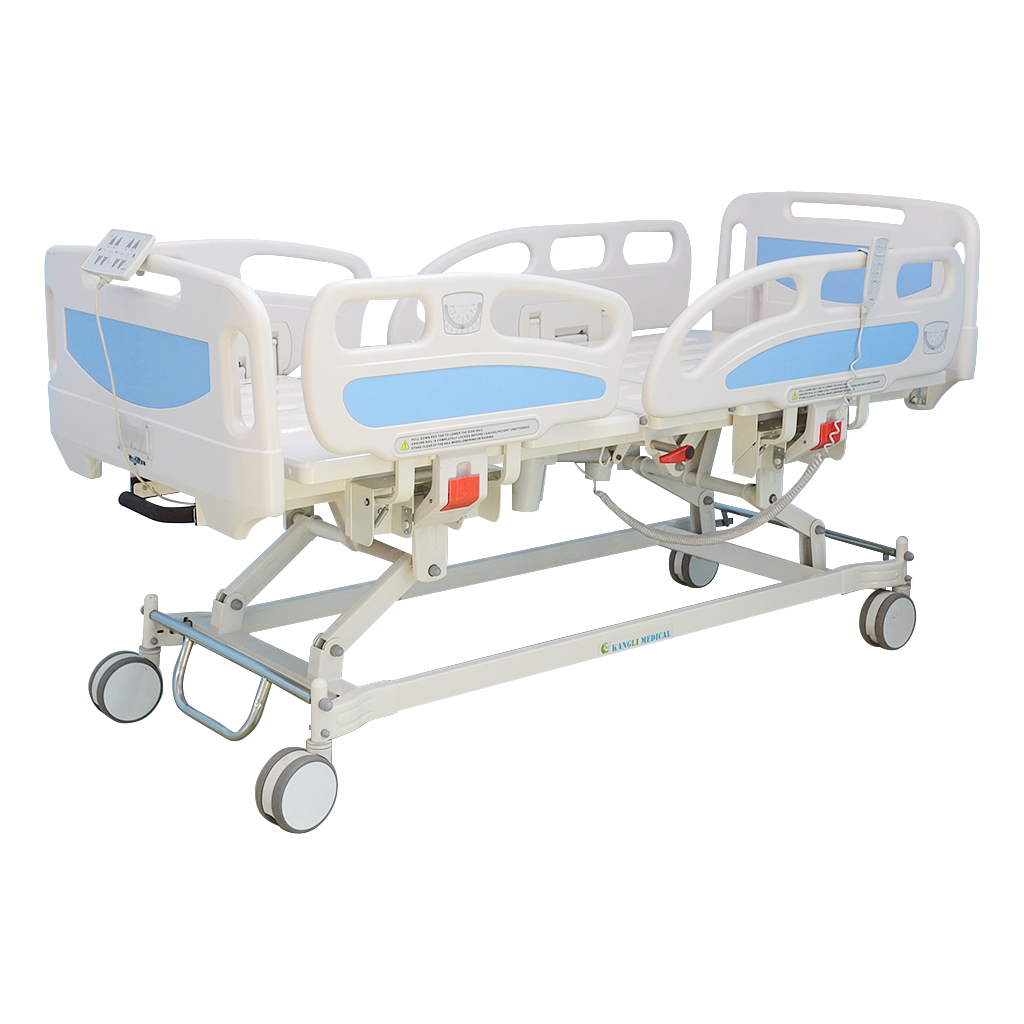 Trendelenburg and reverse trendelenburg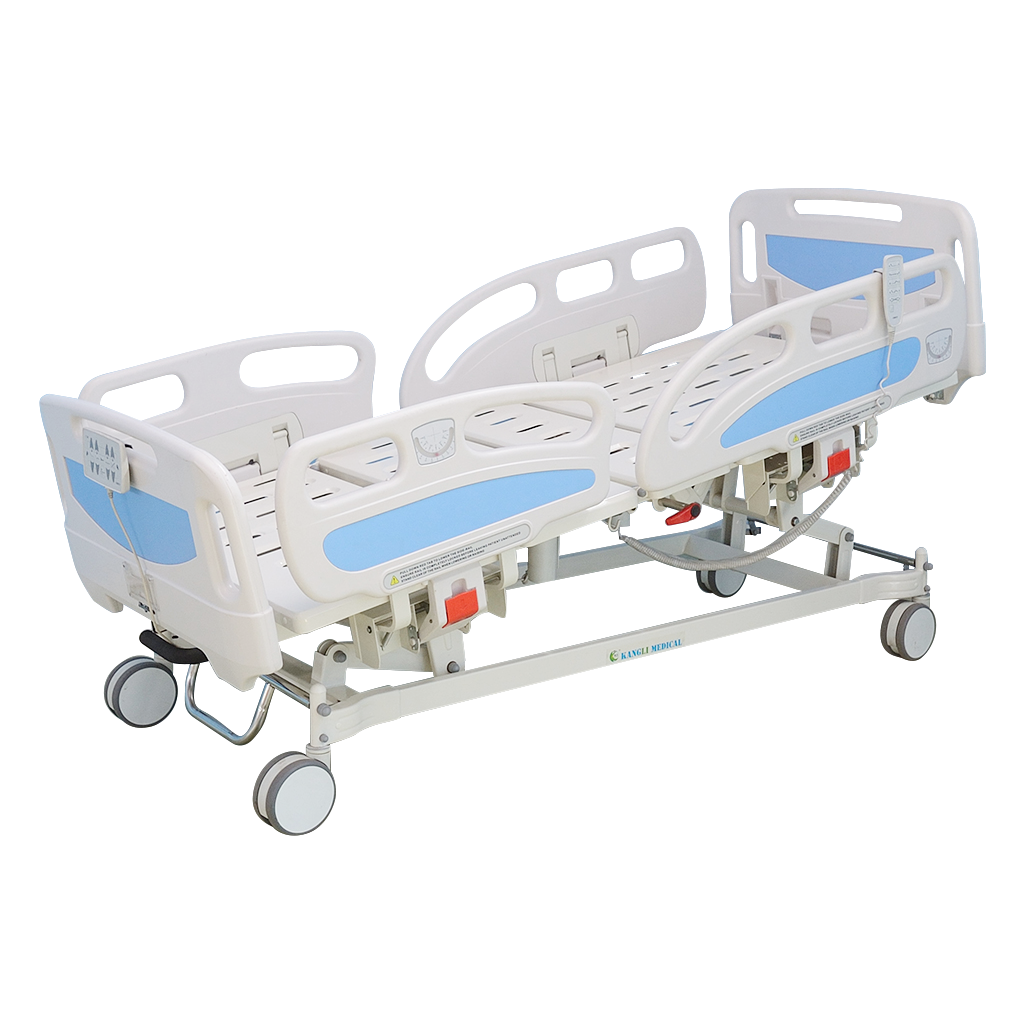 Model No.
Kangli-icu-a
Product Name
Five Function Electric ICU hospital bed
Technical features
Outer dimensions (Side rails up):  L2240*W1060mm(±10mm)

Mattress platform:  L1960*W900mm(±10mm)

Bed height: H470-790mm(±10mm)

Maximum backrest:  ≥70°

Maximum knee rest: ≥25°

TR/ATR: ≥12°

Height of side rails(above mattress platform) :  380mm(±10mm)

Safe working load: 200kgs

Electric parameters
Power supply:  220V/110V, 50HZ / 60Hz

Maximum input: 1.6A,450VA

Protection against water and dust: IPX4

Equipment classification:  Class II

Level of protection against injury from electrical current: Applied part type BF

Electric motor operation mode (load factor): 10%, max2min/18min

Certificates
Products are manufactured according to European  norms for medical technology and hospital beds EN 60601-1,EN60601-1-2 ,EN ISO 14971,93/42/EEC,90/384/EEC EN60601-2-52:2009
Standard Configuration
Standard configuration
1.Split Side Rails: The 4pcs PP side rails provide the patient with protection against falls.
2.Removable Mattress Platform: Easy removable and easy for sterilization. The mattress 3.H/F Boards Locks: The bed board locks prevent accidental removal of the bed boards when steering or handling the bed.
4.Protective corner bumpers
5.Lifting pole or infusion stand holes
6.Mattress holders
7.Angle Indicator: The angle gauges of side rails in the head and foot direction show the angles of the backrest and the tilt of the whole bed mattress platform respectively. 8.Extension of the bed: The integrated bed extension adjusts the mattress platform length to the individual patient's height.
9.Four 125mm castors with central locking system
10.Manual CPR: The electric CPR is equipped with damping device, which can let the back rest fall down slowly to ensure the safety of the patient when the power is off, the whole process can be single hand operation.
Kangli medical is a top hospital bed manufacturers in china,the icu hospital bed we offer is powered by branded motor which is 3 years guarantee.For more details,please click here.